Rosa Meckseper will succeed James (Jim) Bayley as Head of Smart Mobility Business Area of Continental North America
Meckseper to lead strategy development for Smart Mobility solutions and technology
Bayley retires after 32 years of dedicated service and leadership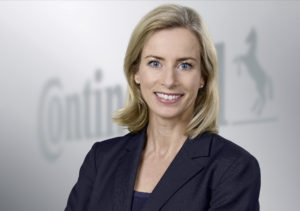 Allentown, PA., April 4, 2023 – Continental today announced that Rosa Meckseper has taken over as the Head of Smart Mobility Business Area of Continental North America. She succeeds Jim Bayley, who retired on March 31, 2023, after serving more than 32 years in the automotive industry. The Smart Mobility business area focuses on business involving mobility services, fleet operators, and commercial vehicle manufacturers. Meckseper will be responsible for the strategic development and executive management for multiple departments, including Commercial and Specialty Vehicles, Transportations Technologies, and Aftermarket.
"It's been an honor to work alongside Jim for all these years. His leadership and expertise have been invaluable to Continental. We congratulate him on a wonderful career and wish him well in his well-deserved retirement," said Aruna Anand, President & CEO, Continental Automotive, North America. "We are also excited to welcome Rosa to the North America leadership ranks. Her experience and expertise will be invaluable as we focus on expanding our Smart Mobility initiatives."
Meckseper joined Continental in 2018 as the Global Head of Strategy and Innovation in Germany, where she was responsible for cross-divisional technology strategy to advance future mobility research projects. Since then, she also served as the Global Head of Corporate Strategy and as a member of the Automotive Aftermarket Management team in Germany.
"I am thrilled to take on this new opportunity and join a team that is changing the way people experience mobility," said Meckseper. "It's an exciting time within our industry as we innovate pioneering technology aimed at producing greater efficiency and convenience. I look forward to building toward the future and continuing to develop innovative, unique solutions in the smart mobility space."
To learn more about Continental's solutions in the Smart Mobility space, visit www.continental.com.